Fort Lauderdale Website Design Company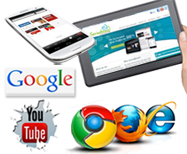 You're online, you have a website, but is it working for you? A website is the hub of any internet advertising strategy. As a Fort Lauderdale website design company, we create proper lead-generating websites. We make it clear to your visitors what you do and why they should pick you within a few seconds. And with 14+ years of design experience, your website will look great. We can design a website to fit your existing brand or create a unique company brand for your. AND, we can do it without breaking the bank.
We know SEO, so customers can easily find you online.
Search Engine Optimization (SEO) describes the process of ensuring your website has the best chance to rank high with search engines for a particular keyword or phrase. It's a proven process for internet marketing, and when your website is efficiently optimized, it can drive more relevant traffic to your website. For a good example, Google "Fort Lauderdale Advertising Agency," you'll find us on the first page near the top.
Click here for a sampling of our website experience.
Springboard uses the WordPress format to create its websites. This format is very search engine friendly. We provide keyword research in combination with SEO copywriting. We also follow Google's best practices. These steps help ensure that your website can easily be found by all search engines, and more importantly new customers.
Websites that fit all types of devices.
It's probably no surprise by now that mobile internet usage has been skyrocketing over the last few years. When we say mobile, that includes smartphones and tablets. If your website is not mobile friendly it can cause headaches for users, but also a loss in business opportunities. Our WordPress websites are responsive designed sites. Responsive design means you only have one website that is coded to adapt to all screen sizes, so that no matter what the device, the website will be displayed correctly.
Make changes yourself and get detailed detailed analytics.
Another virtue of the WordPress website format is that you can make changes yourself, even if you do not have any programing skills. If you can navigate the internet and have very basic computer skills, you can make changes to the websites we build. Every website design company should give you the ability to make changes yourself; it cuts down on costs and gives you the power to make changes quickly.
When you log into your dashboard, you'll see how your website is performing. Get website traffic numbers and see where it's coming from. Find out which pages are performing the best. You can also see what people have searched for to find your website.
Once your website is built, that does not mean your job is done. That old saying "Build it and they will come" does not apply to websites, unfortunately. You must provide fresh content to your potential customers to get and keep your search engine ranking high. We offer several digital marketing solutions and would be happy to customize one that fits your needs and budget.
We recently completed these websites and have them ranked on the first page of Google for their primary keywords.