Looking for the right ad agency?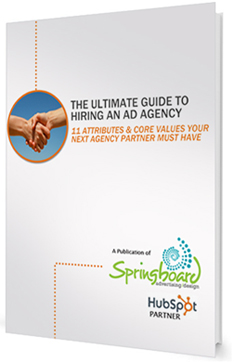 Whether you call it internet marketing or inbound marketing, we think this free ebook will be useful if you're looking to hire an advertising agency. Free Guide To Hiring An Ad Agency will help you make the right choice for you.  Whether or not you choose us as your advertising agency, Springboard Ad/design is here to help. The more you know, the more you will like us. In addition to our free ebooks, we also give free insight, just give us a call. It's our way of sending positive Karma.
Learn habits of an efficient ad agency like:
• Offering the right services
• Presents a clearly defined delivery process
• Places an emphasis on measurement
• Valuing transparency
Simply fill out this form and the ebook will be emailed to you asap.
Here's and excerpt from our Free Guide to Hiring an Ad Agency
AGENCIES CAN ACCELERATE RESULTS
Marketing dollars have shifted away from traditional outlets like
PR and cold calling. But the skill sets of internal teams lag behind. For some, the time and resources needed to train internal people on how to master inbound marketing must-haves
like SEO and email marketing do not exist.
As a result, businesses wanting to take advantage of ROI charged online tactics like blogging and social media are looking to outside agencies for help. These agencies can use their deep online experience to help companies and businesses short on time and internal resources increase their online visibility and lead generation efforts.
However, it is not one-size fits all. Ad agencies come in all shapes and sizes, with different specialties and talents. But there are core values and skill sets that make some better than others.
Here are the 11 most important values to consider when choosing an ad agency.