Need to generate more qualifies leads?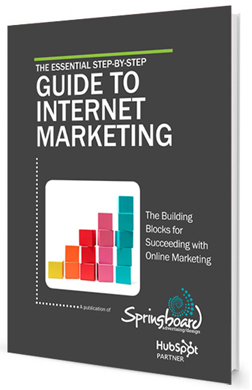 Our ebook Free Guide to Local Internet Marketing is designed for marketers who want to learn the basics. Its a step-by-step instructions on how to get started and teach you the fundamentals.
Local internet marketing is proven, powerful tool in helping you reach the potential customers you need to grow your business.Whether you hire Springboard Ad/Design or decide to do it yourself, we're here to help. The more you know, the more you will like us. In addition to our free ebooks, we also give free insight, just give us a call. It's our way of sending positive Karma.
You will learn things like:
• Creating a keyword strategy
• Optimizing your website
• Promoting content through social media
• Convert website traffic into leads
Simply fill out this form and the ebook will be emailed to you asap.
Here's an excerpt from our Free Guide to Local Internet Marketing.
DOMAIN INFO – Search engine rankings favor sites that are registered for a long period of time. Long domain registrations indicate a commitment to the site, a signal that the site has a lower chance of being spam. Extend your website registration for $10-20 a year for an SEO boost.
MOZ RANK is a general measure of how much online authority your site has. A higher MOZ rank is better. Note that MOZ Rank factors in both on-page and off-page SEO. Improving your on-page SEO may help improve your rank, but there is much more you can do to improve it.
GOOGLE CRAWL DATE – When Google crawls your site, it updates the information related to it, such as your keywords and other SEO factors. Therefore, you want Google to crawl your site as often as possible. The best thing you can do to make Google crawl your site more frequently is to regularly produce fresh content and publish it on your website.