How To Rank Higher On Google – Part 1
Getting your website to the top of Google seems to be the primary goal of every business owner. But HOW you get your website to rank higher in the most popular search engine is another matter entirely.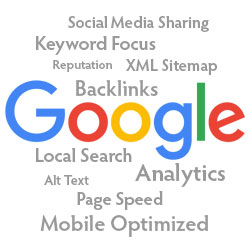 Google announces major updates to their ranking system 2-3 times a year, each time adjusting their algorithyms to give more emphasis to different elements on websites. Most of the time it adds more emphasis to quality content. But occassionally, like in April of this past year, it gave mobile-friendliness of websites a stronger ranking factor. So, if you're running an old-fashioned, non-responsive website you've already lost some credibility in Google. The point is, the target keeps changing and you need to keep your website up to date or risk getting left behind.
Now add to that the fact that every business and industry has different target audiences and degrees of competition. The specific SEO efforts required to get one type of business to the top, say a marina with a fixed location in Fort Lauderdale, are going to be completely different than another type of business, such as an online-only fashion shoe store that sells shoes all around the world.
Rather than covering any one specific industry SEO technique, what we've done is put together a two-part post of solid, all-around useful SEO tools and techniques that every website owner needs to do to increase their site's rankings. We'll post the second half of How to Rank Higher in Google next week.
Review Your Site's Performance
You can't truly know how well your site is doing and what's affecting its performance unless you can measure where the traffic is coming from and what people are doing once they get there. There are a number of third-party site optimization checking tools available–some paid, some free. But it stands to reason that since Google is the one holding all the cards you should definitely include their free service as part of your toolbox to gauge your site's metrics. Start by placing a Google Analytics tracking code on your website. It's easy to do and there are several ways to install the code depending on how your website is set up.
Every Second Counts
The speed at which your website loads in the browser affects whether your visitors will stick around, which also affects how high you rank in the search engines. It stands to reason that if your website loads too slow visitors will get tired of waiting and leave. On the flip side, the more pages a visitor views on your website the more Google sees the content as valid and useful to yet other potential visitors, and it bumps your site up the ranks accordingly. There are a number of elements on a website that affect page loading speed–image file size, videos, javascript requests–and most of them can be optimized in one way or another. Visit Pingdom's Speed Test to check your website's download speed.
Write For Your Readers, Not For Google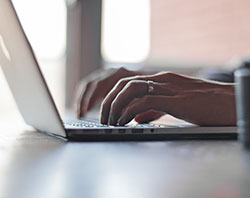 You've probably heard it a dozen times before but it warrants repeating: create content that's relevant and useful to your readers. Providing consistently good content–written for people, not search engines–really does have an effect on how Google views and ranks your website. Google's website scanning bots have the ability to read your written content and determine whether it's genuinely readable text meant for humans, or if it's simply a keyword heavy mash-up meant solely for the search engines. Don't try to fool Google with this one, they're getting smarter all the time.
Go to the Head of the Class
Technically, you don't need to submit a sitemap to Google, or the other search engines, as they will eventually find your site's pages and rank them accordingly. However, I say "eventually" because no one outside of Google's algorithym department knows when, how often their searches happen, or to what degree they crawl your website. You can bypass this guessing game and speed up the process of getting your pages ranked by submitting them in XML sitemap form directly on the Google's Webmaster Tools.
In Part 2 of How To Rank Higher in Google we'll cover backlinks, mobile-friendly websites and other search engine optimization tools that you can use to get to the front page of Google and get found by your target audience.
Whether you need help with ranking higher in the search engines, setting up an ad campaign, or converting your site to a mobile-optimized WordPress platform, contact Springboard Ad/Design today at 954-655-8368 and let us show you how we can turn your site into a powerful, high-converting business tool.