Marketing firms come in many shapes and sizes.
From the traditional big boys, to boutique shops and one-man shows, marketing firms vary greatly in size and price. So how about Springboard Ad/Design?
Remember the Wizard of Oz? When Dorothy and the gang finally got the see the Wizard. It turned out to be just one guy that controlled this great and powerful being.  Well, Springboard is a little like that guy. We're small, but we have the knowledge and skills to make your company look great and powerful.
This business model allows us to easily scale up or down while keeping our prices well in check. We have accounts that only need one person and others that have eight team members working on a single marketing campaign. It's all based on your needs and budget.
Springboard Ad/Design is a full-service marketing firm based in Fort Lauderdale, FL. Our goal is simple: provide breakthrough advertising solutions that won't break the bank. To do this, we bring over 40 years of combined advertising experience to the table. And in those 40 years, we've learned a great deal about servicing our clients with integrity and having a bit of fun along the way. This depth of experience also allows us anticipate the ever evolving world of advertising and make plans accordingly.
Not all marketing firms can say…..
"We like all of our clients." Yes we like their money too, but we can truthfully say that we have a very pleasurable relationship with them all.  We have two rules that make this possible. Before we enter into a relationship with a new client, we make sure that it's a good fit for both parties. The second reason is our ability to consistently deliver the right combination of quality and value in our marketing services. Our clients know that they can count on us and that's very appealing.
Springboard Ad/Design is lead by Creative Director Brett Jones. He's a graduate of the University of South Carolina and big-time Gamecock supporter. In his 20+ years in advertising Brett has worked on major accounts including Fox Sports, Lennar, Office Depot, Belk and Myrtle Beach Golf Holiday.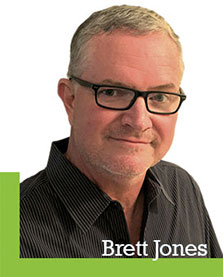 "I've won my share of Addy's, but I get a bigger thrill now when I see the smile on a client's face resulting from the work we've done. I started Springboard in 2009. I saw a need for companies seeking help navigating the constantly changing world of advertising without going broke in the process. Effective advertising doesn't have to break the bank. We deliver high quality advertising solutions that are equally high in value."
In today's economy, your marketing dollars have to work harder than ever. And to earn your business, so do we. At Springboard Ad/Design, our focus is to find the most efficient solutions. This allows you to do more with your marketing dollars. We're a marketing partner you can trust. Founded on this basic principal, consistently deliver quality work and build relationships based on trust. So let's work together… and let's get there.
Another thing that sets us apart from other marketing firms is our philanthropic spirit. Springboard Ad/Design likes to give back to the communities it serves. We provide free advertising and marketing services to non-profit and charitable organizations. We love getting paid but also love providing good work—that's good for our communities. Click here to see some of the organizations we've helped.
You can learn more about Brett on LinkedIn.